Our non-surgical solutions keep your skin looking youthful, without the need for invasive treatments or surgery. They are suitable for anyone of any age – the sooner you start having anti-ageing facials, the better the condition of your skin. After all, prevention is better than a cure. Book in for a non-surgical course of treatments or a microdermabrasion facial and begin to see the results for yourself.
Choose a treatment that targets a specific concern or opt for our ultimate non-surgical facelift which combines a number of steps to help you achieve younger, healthier-looking skin.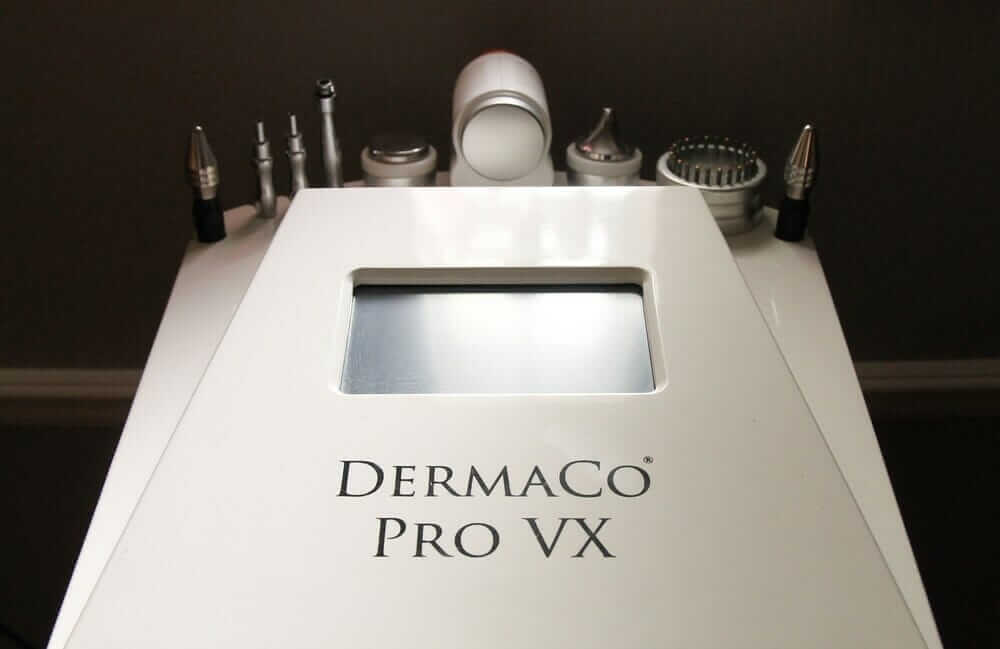 Our non-surgical facelifts combine a number of treatments to give the ultimate result. Manufacturers recommend a course of 10 treatments over a 4-5-week period.
These are the six treatments that make up a non-surgical facelift:
Thermotherapy
This involves a warm disc application that has many therapeutic properties. The treatment enlarges blood vessels, increases blood flow, opens pores, relieves pain, relaxes collagen tissue and reduces inflammation. This step helps prepare the skin for the rest of the treatment.
Diamond tip microdermabrasion
Microdermabrasion diminishes epidermis abnormalities, stimulating and restoring circulation to encourage healthier tissue. The gentle exfoliation removes dead skin cells and imperfections, helping to smooth out lines. The treatment can be used to target sun damage, common acne, dryness and blackheads.
Microcurrent
This facial uses microcurrents to tone and firm facial contours, tightening sagging skin, lifting eyes and reducing eye bags.
Ultrasound
The ultrasound wave stimulates skin tissue and tones and firms facial muscle fibres. There is an immediate noticeable lift after just one treatment. As well as tighter, more toned skin and lifted eyes, you can enjoy a reduction in dark puffy undereye circle and fine lines on your skin.
LED LIGHT THERAPY
Each LED light has a completely different effect to our skin:
Red – Increases collagen and elastin production. Perfect for anti-aging.
Blue – Creates an anti-inflammatory/anti bacterial effect that is perfect for acne.
Green – Soothing effect on any irritation and reduces redness.
Yellow – Encourages Lymphatic Drainage and will assist in detoxifying the face and body.
Cryotherapy
This cold treatment slows down cellular metabolism and absorption, and closes down the pores, which locks in moisture and leaves the skin feeling refreshed. It is the perfect end to your facial treatment.
Book in for a microdermabrasion facial to help boost the condition of your skin. The treatment is designed to reduce the appearance of lines and wrinkles, as well as helping to heal skin blemishes. During the treatment, a handheld device is moved across your skin to exfoliate and remove dead skin cells. It isn't painful and will help to improve general circulation and skin appearance.
Treatments for your specific

We can offer you non-surgical solutions to help you with any concerns you might have regarding your skin. If you don't want to commit to a full non-surgical facelift treatment, why not try:
Eye treatments
Anti-ageing facials
We usually recommend a course of treatments for the best results – speak to your therapist for advice about the specific treatment you would like.
YOUR NON-SURGICAL MICRODERMABRASION TREATMENT?
Comfortable treatment rooms. Our two treatment rooms are designed for your comfort during your facial treatment.
Adaptable treatments. Treat the areas that concern you and see noticeable improvements to your skin.
Experienced therapists. Our therapists are fully trained in microdermabrasion technology and use all the latest methods.
Easy-to-reach salon. We are located in Green Street Green, which is convenient for all our Orpington clients.
This is the current price list for our microdermabrasion and non-surgical facelift treatments:
DERMACO PRO SYSTEM

Clearly Beautiful Results. Developed to offer an affordable solution to improve skincare.

Ultimate non-surgical face lift (75 mins)
£70
Eye Treatment (30 mins)
£30
Microdermabrasion Facial (60 mins)
£60
Microdermabrasion Treatment (30 mins)
£35
Our treatments are a combination of six therapies designed to tailor a unique treatment for every client.
A COURSE OF TEN TREATMENTS RECOMMENDED OVER A PERIOD OF 4/5 WEEKS
BOOK A COURSE AND GET 10TH ONE FREE
Softens skin, tones and lifts the face and eye area, reduces dark puffy circles around the eye.
Significantly reduces fine lines and wrinkles, addresses problematic skin including acne and unwanted pigmentation, anti-ageing benefits.
FREE CONSULTATIONS
Please get in touch to book your non-surgical facial treatment with Serenity. It's easy to find us – we're based at 25 High Street, Green Street Green, Orpington, Kent BR6 6BG.